DO MAKE USE of LINKS,
The Top Bar >PAGES<
~~~~~~~~~~#########~~~~~~~~~~
Prof. Jill Stephenson's Clarity Is Refreshing …
~~~~~~~~~~#########~~~~~~~~~~
Posted by:
Greg Lance – Watkins
Greg_L-W
eMail:
The BLOG:
https://InfoWebSiteUK.wordpress.com
The Main Web Site:
~~~~~~~~~~#########~~~~~~~~~~
.
Hi,
I have every reason to believe that Prof. Jill Stephenson's letter in today's Express will reassure responsible Scots and those have Scotland's wellbeing at heart.
It shows in very clear terms just how little support Nicola Sturgeon and her odious followers in the SNP really have – as you can see, although they have the most seats 63 percent of the electorate oppose their aims.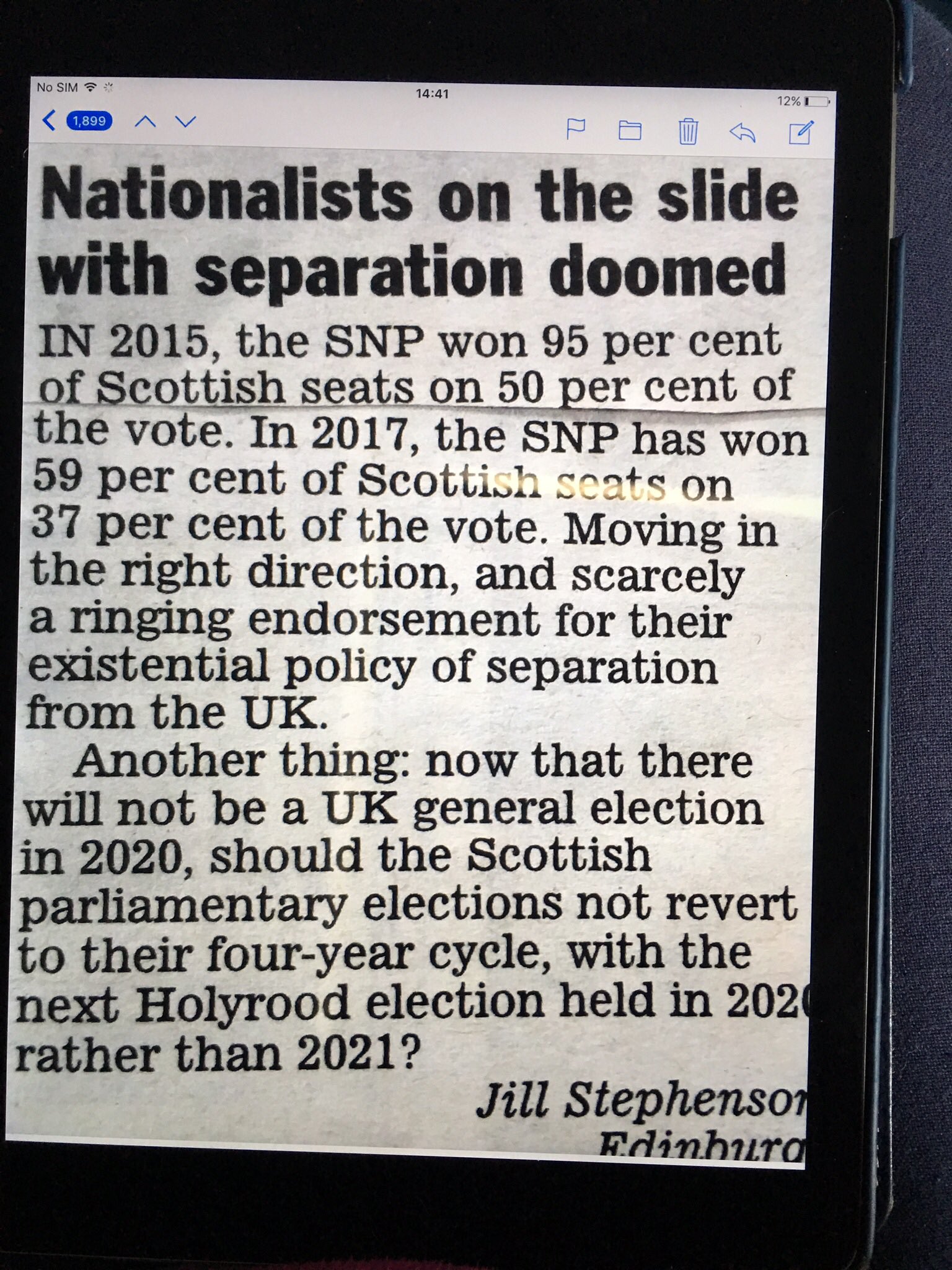 It might well be claimed by the dishonest that the same could be said of the Tories in Britain but firstly those who did not vote for the Tories did vote for other parties that support BreXit, making much of faux claims of hard and soft is just obfuscation of the issue!
Obviously the Tories will negotiate the best deal they can for ALL of the British peoples – though I am not sure that could be said of other parties and we will watch in some horror as they try to undermine our negotiating stance for their own selfish gain – but as they say 'time will tell'.
There is still an outside chance the Tories will squabble internally which could lead to sufficient challenge from Corbyn's claque and fellow travellers out for their own gain, which could lead to a very damaging election later this year or early next.
Such an election would be a disaster for all regions of these United Kingdoms as was made abundantly clear in 1889 in Judy magazine CLICK HERE
Greg_L-W.
~~~~~~~~~~#########~~~~~~~~~~
.
Posted by: Greg Lance-Watkins
tel: 44 (0)1594 – 528 337
Calls from 'Number Withheld' phones Are Blocked
All unanswered messages are recorded.
Leave your name & a UK land line number & I will return your call.
'e'Mail Address: Greg_L-W@BTconnect.com
Skype: GregL-W
TWITTER: @Greg_LW
DO MAKE USE of LINKS,
The Top Bar >PAGES<
I try to make every effort to NOT infringe copyrights in any commercial way & make all corrections of fact brought to my attention by an identifiable individual
.
Please Be Sure To
.
.
Re-TWEET my Twitterings
To Spread The Facts World Wide
eMail:
The BLOG:
https://InfoWebSiteUK.wordpress.com
The Main Web Site:
~~~~~~~~~~#########~~~~~~~~~~