DO SEE OUR MAIN WEB SITE
@ CLICK HERE
DO MAKE USE of LINKS,
>SEARCH<
&
>Side Bars<
&
The Top Bar >PAGES<
~~~~~~~~~~#########~~~~~~~~~~
.
#Dark_Money Funding of #BreXit & How Was It Funded & Who By? …
.
~~~~~~~~~~#########~~~~~~~~~~
Posted by:
Greg Lance – Watkins
Greg_L-W
eMail Address:
Greg_L-W@BTconnect.com
Blog About The Main Web Site:
https://InfoWebSiteUK.wordpress.com
~~~~~~~~~~#########~~~~~~~~~~
Hi,
Mystery deepens over secret source of Brexit 'dark money'
Only one major pro-Leave donor refuses to distance himself from controversial £435,000, which bankrolled DUP's Brexit spending spree.
Richard Cook, chair of the secretive group that channelled £435,000 to the DUP, is interviewed at his home by Channel 4's Alex Thomson. Image used under Fair Use: Channel 4. All rights reserved.A number of major political donors have denied they are the source of a controversial £435,000 donation to the DUP's Brexit campaign, openDemocracy can reveal today – with only one person refusing to distance themself from the secret donation.

openDemocracy has investigated a list of key figures in relation to the donation, and all apart from one have either denied involvement or have made public statements indicating opposition to Brexit. The only person we contacted who has told us he will not comment is Henry Angest, a banker and longstanding Conservative party donor, who is known to be a supporter of Brexit.

Continuing secrecy raises pressing questions about transparency in UK politics.

There is no evidence to suggest that Angest, nor any of the other figures we have contacted, are the source of the £435,000. Nor is there any suggestion that whoever gave this unprecedented sum to the DUP's Leave campaign broke any laws.

But the continuing secrecy raises pressing questions about transparency in UK politics – particularly as Northern Ireland's Democratic Unionist Party now holds the balance of power in parliament, propping up Theresa May's minority government as it negotiates Brexit.

The UK government announced earlier this year that it will change the law to end donor secrecy in Northern Ireland, but has rejected calls to backdate the law to 2014, so that the source of the DUP donation could be revealed. Government and DUP sources have rejected accusations that this is 'protection' for the DUP, as part of their £1 billion deal to keep the Conservatives in power.
One consistent clue
Northern Ireland's Democratic Unionist Party (DUP) has repeatedly refused to reveal the source of the cash, which was spent on lavish pro-Leave campaigning in the weeks before Brexit. But we have consistently been given one clue as to where the money came from: that those behind the donation are passionate supporters of the Union between the four nations of the UK.

After openDemocracy first revealed the scale of the secret donation, DUP leader Arlene Foster was grilled about it on the BBC Northern Ireland show 'The View'. She said that the money came from "an organisation in England that wants to see the Union kept". Later that month, under continued pressure, her party disclosed that the money came from "pro-Union business people", via a little-known group called the Constitutional Research Council (CRC). Glasgow-based Richard Cook, who chairs the CRC, has claimed that the group was set up to promote the Union, and has also revealed that Scottish people are among the donors.

openDemocracy has since investigated every major political donor who fits this profile. In particular, we contacted everyone who gave £25,000 or more to oppose independence in the run-up to the 2014 Scottish referendum, and asked each donor from that group (apart from those already on record as Remain supporters) if they were the source of the DUP donation.

The findings of our investigation are below.
Ruling out Remainers
'Vote to Leave the EU'. Flickr/David Holt. CC-by-2.0.In February, we discovered that the £435,000 had been channelled to the DUP via a little-known group, the Constitutional Research Council (CRC). The DUP Brexit campaign manager Jeffrey Donaldson MP has described the CRC as "a group which supports constitutional pro-Union causes". He added: "they believed, as did we, that Brexit would be good for the Union and bad for those who oppose it."

Our first step was to eliminate from our enquiries all the pro-Union donors who have also – vocally or financially – supported the Remain campaign. These include Harry Potter author JK Rowling, who gave a million pounds to the pro-Union Scottish campaign, Better Together, and has also spoken repeatedly in public about her support for EU membership. Donald Houston, whose firm Raindance Investments Ltd gave £200,000 to the pro-Union campaign in 2014, also contributed to the Remain campaign. The billionaire banker Bruno Schroder made significant donations to Better Together, the Remain campaign, and the Kensington Conservative party.

Ian Taylor's company Vitol, the world's largest oil trader, was fined $7 million in 2007 for paying $13 million in kickbacks to Iraqi officials during the Saddam Hussein era. Taylor is also the majority shareholder in Harris Tweed Hebrides and chairman of the board of the Royal Opera House. He was a major donor to Better Together before the Scottish independence referendum, and also to the Remain campaign in 2016.

Orion Engineering is also an important player in Scotland's oil industry, led by Alan Savage. The firm, which specialises in recruitment, gave £50,000 to Better Together ahead of the Scottish referendum. The firm has not responded to our attempts to contact Savage, but given that the firm has also supported the Liberal Democrats (opponents of Brexit), and in 2015 Savage wrote that "being part of the European Union is fundamental to my business", and that "leaving the EU is a completely absurd idea", we have ruled him out of our enquiries.
"Mr Sansom knows nothing about this shower"
Next, there were those pro-Union donors who told us that they supported the Remain campaign, or vocally distanced themselves from the DUP deal.

Author Christopher Sansom is reported on the Electoral Commission website as having given £200,000 to Better Together (though The Scotsman has previously put the figure at £294,000). Speaking to openDemocracy via his agent, he confirmed that he "knows nothing about this shower", and was a Remain supporter.

Conservative peer Andrew Fraser is reported on the Electoral Commission website as having given £100,000 to Better Together of which he was treasurer, and also gave £20,000 to the "Let's Stay Together" campaign (again, this number has been reported in the Scotsman as being higher). He was ennobled in David Cameron's resignation honours, and, when asked by openDemocracy if he supported a Remain vote said, "I certainly did".

The Scottish businessman Alan McFarlane, who is chairman of the advisory board of the think tank "Reform Scotland" and founder and senior partner of Edinburgh based investment management company Dundas Partners LLP, gave £20,000 to the Unionist "Vote No Borders" campaign, and also £10,000 to the "WSF2014 Ltd" pro-union campaign. Asked about the Constitutional Research Council, he told openDemocracy "I know nothing about them", and sources confirmed that he was a Remain supporter.

Angus MacDonald, who made his fortune in the financial information industry and now works in recycling in Scotland, ran his own pro-Union campaign in 2014. He confirmed that he had "no idea about any of this". The Constitutional Research Council chair Richard Cook also works in the waste management industry in Scotland, but MacDonald said he had "never heard of Richard Cook."

The Earl of Seafield is the chieftain of Clan Grant and one of Scotland's biggest landowners. It was the previous Earl of Seafield who, as Scotland's Chancellor, signed the Act of the Union in 1707, famously saying, "there's ane end of ane auld sang". The current Earl made a donation of £100,000 under the name "Sir Ian Seafield" to the Better Together campaign, while his Reidhaven Trust Estate Ltd made a further donation of £20,000. Asked about the DUP donation, his spokesperson confirmed that "Lord Seafield does indeed know nothing about this".

Banker Ivor Dunbar, former co-head of global capital markets at Deutsche Bank, gave £50,000 to Better Together in 2012. Dunbar is chairman of the Scottish based gap-year charity Project Trust, and has told openDemocracy he knows "nothing about the matters to which you refer".

Jimmy Milne is chairman and managing director of the Balmoral Group, a major player in the Scottish oil industry. His firm gave £58,000 to Better Together, but his spokesperson also confirmed that "he has no knowledge of the CRC or Richard Cook so is unable to assist with your enquiry".

The Buccleuch Estates Limited, the company owned by the Duke of Buccleuch, gave a total of £55,724 to various pro-Union campaigns ahead of Scotland's referendum, but confirmed to openDemocracy that they know nothing about the £435,000 donation to the DUP.

Sir David Garrard, a major Labour donor and Better Together supporter to the value of £25,000, told us that "I can confirm that I have never given directly, or knowingly indirectly, a penny piece to the DUP".

Sir Edward Percy Keswick Weatherall's family fortune comes from its controlling share of the bank Jardine Matheson, which played a notable role in the 19th century Opium Wars, an episode of British history so bloody that it caused William Gladstone to say at the time that he lived "in dread of the judgments of God upon England for our national iniquity towards China".

Weatherall made a donation of £50,000 to Better Together ahead of the vote in Scotland in 2014. He has told openDemocracy that he was not involved in any donation to the Constitutional Research Council, and has never heard of the organisation or of its chair, Richard Cook.

Mark Bamford, whose family firm owns the iconic heavy-machinery company JCB gave a £74,747.47 donation to a group called the Scottish Research Society ahead of the 2014 referendum. openDemocracy investigations have ascertained that The Scottish Research Society's registered address was a flat in Edinburgh which belonged to Christopher Monckton, the former UKIP deputy leader and prominent climate change denier (and subject of previous openDemocracy investigations). However, Bamford responded to our queries saying "I am sorry I am unable to assist and any donations that may have been made are in the public domain."

Malcolm Offord ran his own pro-Union campaign, named "Vote No Borders", to which he personally donated £20,000, and which attracted a number of other substantial donations. Offord previously worked in the City, and moved back to Scotland to establish his own firm "Badenoch & Co".

Badenoch's office sits at the heart of Edinburgh's New Town on the top floor of a building otherwise occupied by the firm Murray Capital, owned by the controversial former Rangers owner David Murray. Together, they face across Charlotte Square to Bute House, the official residence of the First Minister of Scotland.

In 2016, Offord spoke in favour of a Leave vote, and he is well connected with the Unionist, political and business worlds in Scotland. However, his office has told us that he knows nothing about the donation to the Constitutional Research Council and the DUP.
The Marquess of Salisbury and Stalbury trustees
Hatfield House. Imaged used under Fair Use: http://www.hatfield-house.co.uk/. All rights reserved.Stalbury Trustees, who gave to Better Together, are regular donors to the Conservative party. Their trustees include the Marquess of Salisbury, a former leader of the Conservatives in the House of Lords who is known to have supported a Leave vote. Salisbury has long taken an interest in Northern Irish Unionism, and, in 2010, hosted talks between the Conservatives and Northern Irish Unionist parties, including prominent DUP figures, at his home, Hatfield House, in Hertfordshire.

The Marquess of Salisbury is also a donor to the think tank Open Europe. As openDemocracy has previously revealed, one Open Europe former staff member, Christopher Howarth, is now responsible for the European Research Group – the secretive pro-Brexit MP group which received funding from the Constitutional Research Council when it was chaired by the now Brexit minister, Steve Baker. Another former Open Europe staffer, Raoul Ruparel, now works as a Special Adviser in the Department for Exiting the EU alongside Steve Baker, the former ERG chair.

'No one involved with Stalbury is aware of the specific donation which you mention.'

openDemocracy wrote to Mr Ulric David Barnett, who is secretary of the trust (and lists his profession as "gentleman"). We received a phone call from the mailroom of a legal firm named Forsters, in Mayfair. The address belongs to them, and they initially claimed they knew no one of that name. However, we eventually managed to establish that the trust is, in fact, a client of the firm. After emailing and telephoning the relevant lawyer, we finally received this statement:

"I can tell you that Stalbury has made no donation to the Constitutional Research Council, nor, directly or indirectly, to the Democratic Unionist Party and no one involved with Stalbury is aware of the specific donation which you mention."

The distillers William Grant and Sons, who produce whiskies including Glenfiddich and Balvenie, donated £135,000 to Better Together, and £25,000 each to the separate pro-Union campaigns "Vote No Borders", run by the businessman Malcolm Offord, and £25,000 to the campaign run by the previously mentioned Angus MacDonald. After chasing up our letters to them, we received a phone call from Jack Irvine, CEO of Media House International, who told us that he had arranged the Better Together donation, and that "I can assure you there was no connection" between the company and the Constitutional Research Council or the DUP.
The Vestey family
There is one major Unionist donor who has not responded to our repeated attempts to contact him.

The Vestey family are heirs to a vast meat processing fortune, and one of their firms, Western United Investment Management Ltd, gave £40,000 to Better Together. Lord Samuel Vestey is Master of the Horse in the Royal household, and perhaps best known in the UK for the 'horse meat scandal', in which his firm supplied horse meat, labelled as beef, to a number of major outlets in 2013. In Australia, he is notorious for the more serious allegation that he used Aboriginal people as "virtual slaves", leading to the iconic "Wave Hill Walk Off" in 1966 and remembered in the Australian protest song, "From little things, big things grow". Both Vestey and his father served in the Scots Guards.

We have been unable to establish whether Lord Vestey took a firm public position on the EU referendum, but in an interview with Farmers' Weekly in April this year he talked about how difficult Brexit would be for farmers, and worried about the shock to British voters as a result of what he called a "divorce settlement" – not language traditionally associated with Leave supporters.

The Vesteys have not responded to our repeated attempts to contact them.
Henry Angest and Arbuthnot Latham
There is one major donor to the Unionist cause in 2014 who is known to have supported Brexit, and who has refused to deny involvement in the DUP donation.

Sir Henry Angest, Chairman and Chief Executive of Arbuthnot Banking Group PLC. Image used under Fair Use: Arbuthnot Banking Group PLC. All rights reserved.Henry Angest is a Swiss-born banker with an estate in Bridge of Cally, Perthshire. He is chairman and chief executive of the private bank Arbuthnot Latham, owner of the firm Flowidea, and a former treasurer of the Conservative party. He has given over £1.9 million to the Conservative party and made headlines when he was given a knighthood by David Cameron, causing what the Daily Mail called a "cash for titles storm". He made headlines again when, in 2013, it was revealed that Secure Trust Bank plc, of which he was chair, owned the controversial high-cost loans company Everyday Loans, which was reported to charge interest at an average of 74.8% APR. His bank sold the company in April 2016.

Angest's firm Flowidea gave £100,000 to Better Together in 2014, and £10,000 to the "North East says No" campaign, against devolution to the North East of England, in 2004. His Arbuthnot Banking Group gave £20,000 to the Vote No campaign in the referendum on the Alternative Vote in 2011. In 2016 alone, Arbuthnott gave £68,500 to the Conservative party, Flowidea gave £185,000 and Angest himself gave £2,000 to the Perth and Kinross Conservatives.

Angest publicly backed Brexit, and, we are told, has long been involved in the Eurosceptic movement. Despite being a prolific donor to the causes he believes in, neither he, nor Flowidea, nor Arbuthnot, nor any of the 22 companies he is currently or has ever been a director of, are listed with the Electoral Commission as having registered any donations to any of the Leave campaigns in Great Britain.

However, investigations by The Observer in 2010 showed that he had given funds in 2006 to the Freedom Association – a right-wing group which has a number of ties to the Constitutional Research Council, through which the DUP donation was channelled. Steve Baker, the current Brexit minister, was a member of the Freedom Association until "around 2013", the organisation told openDemocracy. Baker took a donation from the CRC in December 2016 for his work with the European Research Group. As openDemocracy has previously revealed, Richard Cook, CRC chair, has spoken at Freedom Association events, and was the Scottish representative of the Campaign Against Political Correctness – an organisation with very close links to the Freedom Association. In 2007, the two key DUP MPs, Jeffrey Donaldson and Sammy Wilson, were involved in a Freedom Association 'fact-finding mission' to Northern Ireland. Donaldson was the DUP's Brexit campaign manager.

There is one major donor to the Unionist cause in 2014 who is known to have supported Brexit, and who has refused to deny involvement in the DUP donation.

Angest, like the Marquess of Salisbury, has also previously funded the group Open Europe, whose former staff members (as mentioned above) include Christopher Howarth, who now runs the CRC-funded European Research Group, and Raoul Ruparel, now a special adviser in the Department for Exiting the EU.

Finally, Mr Angest has also been a donor to the controversial organisation Atlantic Bridge, which brings together the British and the American neo-Conservative right and whose UK director was listed in 2009 as the Scottish businessman Adam Werritty, whose links to Liam Fox caused the latter to resign in disgrace as defence secretary in 2011.

Angest's office eventually responded to our attempts to contact him, saying that they "have no comment on this matter". We informed him that he was the only known Brexit-backer in our survey not to distance themselves from this donation, and asked again if he wanted to comment. His office didn't reply.

We have no evidence to suggest that Henry Angest is the source of the DUP donation, and he is welcome to contact us to clarify the matter.
To view the original of this article above CLICK HERE
'Substantial' fine linked to DUP's secret Brexit donors
Former minister demands answers on £6,000 fine, questioning legality of DUP's mystery source of Brexit cash
DUP leader Arlene Foster and UK prime minister Theresa May. Image, gov.uk, fair use.

A former Europe minister has today called for a "full and proper investigation" into a controversial £435,000 donation towards the DUP's Brexit campaign, as new details emerge of a substantial fine linked to the transaction.

Theresa May's allies in parliament, the Democratic Unionist Party (DUP), have always insisted that the donation, channelled via a secretive group known as the Constitutional Research Council (CRC), complied fully with the law.

However, openDemocracy has now learned that a £6,000 fine imposed by the Electoral Commission and paid in full last month was connected to the CRC. Labour MP Chris Bryant has written to the Northern Ireland Secretary, James Brokenshire, stating that it "cannot possibly be right" for details of one of the highest-ever fines imposed by the Electoral Commission to be kept secret.
"Failures by a regulated entity"
The Electoral Commission revealed on its website last month (as first spotted by The Detail) that it had imposed a £6,000 sanction connected to a political donation in Northern Ireland, but gave no name, offence, or summary of the decision. The Commission stated only that it imposed the penalty due to "failures by a regulated entity" but could not "disclose further information" because of legal restrictions.

Bryant has asked Brokenshire to confirm who the "regulated entity" is, and whether the fine relates to the unprecedented £435,000 donation given to Mrs May's Westminster allies, the Democratic Unionist Party (DUP), in order to campaign for Brexit.

The £435,000 donation – a much larger sum than the DUP has ever spent on an electoral campaign in its history – attracted particular controversy because almost none of the cash was spent in Northern Ireland. Yet the donor secrecy laws which apply to Northern Ireland, and not the rest of the UK, have allowed the donors(s) to remain anonymous.

In his letter to the Northern Ireland Secretary, Bryant says of the Electoral Commission's £6,000 fine:

"Whatever the rights and wrongs of maintaining secrecy about financial donations in Northern Ireland, it cannot possibly be right to keep secret the details of a regulated entity being found to have broken electoral law and being fined a substantial amount. No other judicial or quasi-judicial decision of this nature is kept secret in the UK."
"No comment"
The Electoral Commission's office in Belfast would make no comment on their own investigation nor on the casework that led to the high-level fine.

However, political sources in Northern Ireland with knowledge of the Commission's affairs have confirmed to openDemocracy that the substantial sanction was connected to the Constitutional Research Council (CRC) – the secretive group that channelled the £435,000 to the DUP in Belfast.

The £6,000 fine was paid in full to the Commission on August 30.

openDemocracy contacted the CRC's chair, Glasgow-based Richard Cook, and asked him to confirm details of the fine; why his organisation had been sanctioned by the Electoral Commission, and what part of Northern Ireland's electoral law had been broken. He was also repeatedly asked why both he and the DUP had insisted no laws had been broken, and when he had learned that the Commission was investigating the cash transfer.

Throughout the conversation, Mr Cook was given multiple opportunities to dismiss the listed £6,000 fine as nothing to do with the Constitutional Research Council or the DUP. He declined to do so, or to make any further comment.
End donor secrecy
After openDemocracy first revealed the scale of the secret donation to the DUP earlier this year, we reported on Mr Cook's business connections to a former Saudi spy boss and to an individual with alleged links to a major arms scandal, and yesterday published the results of our investigation into a list of key figures in relation to the donation.

Although current electoral rules in Northern Ireland allow political parties to protect the identities of donors and funding, the government is expected to announce this will soon change.

However the UK government's policy strategy on full transparency is likely to be highly influenced by their £1 billion deal with the DUP. The Conservative party's minority government is being propped up in parliament by the DUP, and any change which exposed the DUP-CRC donation arrangement is likely to be resisted.

Rather than backdate transparency rules to 2014 – which would reveal the source of the £435,000 DUP cash – Brokenshire announced earlier this year that the change, which will be made through secondary legislation, would only apply to donations and loans received after 1st July 2017.

Government and DUP sources have denied that this is 'protection' for the DUP, as part of their deal to keep the Conservatives in power.
'A full and proper investigation?'
Last month the Electoral Commission published details of a £3,500 fine on UKIP related to campaign expenditure.

In June, the Commission fined the owner of Butlin's, Peter Harris, £12,000 for breaking spending return rules. Mr Harris spent £420,000 on the Leave campaign in last year's EU referendum.

Also in June, the DUP were fined £4,000 for failure to complete campaign expenditure returns for the 2016 Assembly elections.

Bryant's letter to Mr Brokenshire regarding the mystery £6,000 fine pointedly ends: "Does the fine relate to the DUP's donation from the CRC? Will you launch a full and proper investigation into how the money was spent? And will you ensure that the truth comes to light?"

This is day two of openDemocracy's week-long #BrexitDarkMoney series. See yesterday's revelations here and our reasons for publishing this series here.

We need your help to expose the DUP
Theresa May is desperately clinging to power, relying on the DUP, the hard-right party that has blocked same-sex marriage, and kept abortion illegal.
Worse still, they're bankrolled by dark money – we've exposed the shady group behind their lavish pro-Brexit campaigning, but they're still refusing to name their secret donors. Now they hold the balance of power at Westminster, it's even more vital that we find out who their paymasters are.

Can you chip in to boost our investigation now, so that we can expose the dark money bankrolling British politics?
Can we return to Europe after Brexit?Since the referendum, opponents of Brexit have tried to prevent it. Now that it seems definite, for the first time Remain supporters debate how to reverse it once it has taken place. Join the discussion with Caroline Lucas MP, Clive Lewis MP, Anthony Barnett & Suzanne Moore moderated by John Harris.
Tuesday 31 Oct 2017, 7.30 – 9.15, in London.
Who is bankrolling Britain's democracy? Which groups shape the stories we see in the press; which voices are silenced, and why? Sign up here to find out.
To view the original of this article above CLICK HERE
How did Arron Banks afford Brexit?
The self-styled 'bad boy' who bankrolled the Leave campaign appears to have exaggerated his wealth. So how did he pay for his Brexit spree?
Arron Banks in 2014, when he pledged £1million to the UK Independence Party. Ben Birchall/PA Images. All rights reserved.

In September 2013, the man who bought Brexit – Arron Banks – was in trouble.

For the past two years, financial regulators in Gibraltar had been scrutinising his insurance under-writer, Southern Rock. They had discovered it was keeping reserves far below what was needed.

This was a serious problem. Banks claimed he had already provided £40 million to plug the hole. He also told the regulator he would step down as a director, but has since been required to find an eye-watering £60 million in extra funding.

A year later, these financial worries seem to have completely evaporated. Banks had begun buying diamond mines, investing millions into chemical companies and wealth management firms, setting up loss-making political consultancies, and most famous of all – funding the United Kingdom Independence Party (UKIP).

One question remains though. If Banks was in such a tight spot in September 2013, how did he manage to be so generous the following year?

Over the past four months, openDemocracy has conducted an in-depth review of Bank's business dealings since he first started out in business in the early 2000s. As well as his own public statements about the sources of his wealth, we have spoken to his former employers, and obtained and reviewed court documents. There are of course a number of perfectly innocent ways that Banks could have obtained the extra funds, but given Banks' significance to British politics, what have found so far is extremely troubling.
"Quite good at persuading people to buy things they didn't want to buy"
Banks had started out selling vacuum cleaner appliances door to door in Basingstoke in the late 1980s. "I was quite good at persuading people to buy things they didn't want to buy," he told the New Statesman in October 2016. He also briefly worked as an estate agent, and ran a failed bid to become a Conservative councillor. He married young and was soon the father of two daughters.

After leaving school with few qualifications, he had eventually found himself in a junior position in the Lloyds' insurance market. This is where Banks gained his first exposure to the industry, where syndicates of insurers spread risks between themselves and traded financial assets to cover their positions. Banks spent seven years at Lloyds', working his way into a junior underwriting position before he moved to Bristol, following a split from his first wife.

If Banks was in such a tight spot in September 2013, how did he manage to be so generous the following year?

It is here the cracks in Banks' biography start to appear. Banks has claimed he was promoted and rose to lead his own sales team at Norwich Union – now part of Aviva. However, Aviva say they have no record of Banks ever having worked for Norwich Union. He has also claimed to have worked for Warren Buffett around this point in his career. We asked Buffett about this. He replied. "I have no memory of ever hearing of the name Arron Fraser Andrew Banks. He certainly never worked for me." Further checks across the Berkshire Hathaway group, made by Buffett's office, yielded no evidence he had ever worked for any of his subsidiaries. In a letter delivered by his lawyers, Banks declined to comment on either of these points.

In 1998, Banks got taken on by a tiny broker focussed on motorcycle insurance run from offices above a shop in the sleepy village of Thornbury. He was granted a 20% shareholding in the fledgling business. In November 2000, he resigned as a director of the firm, and two months later, sold his shares for £251,000.

Shortly afterwards, Banks met the woman who was to become his second wife, a Portsmouth-based Russian called Ekaterina Paderina. According to the Sunday Times, Paderina's former husband had been interviewed twice by Special Branch because they suspected her of working for the Russian government. Ekaterina moved to join Banks in Bristol but stayed on the electoral roll in Portsmouth until 2008, still registered to a council flat overlooking the naval base. When Portsmouth Council found out she should not have been entitled to the flat because she was living with Banks, council officials reportedly demanded a cash payment be made by the Banks family in recompense.

Banks and Ekaterina wed in 2001 and in the autumn of that year Banks set up his own insurance company, with financial backing from his relatives and from the Northern Irish insurance tycoons, Leslie Hughes and James Bowers. The business focused on motorcycle, motorhome and van insurance.

The new businesses were also the first he formed with two men who would become his long term business partners, the Australian solicitor Jim Gannon and the accountant Paul Chase-Gardener.

In June this year, the Financial Times published their own analysis of the overlapping businesses of Arron Banks, the "Bad Boy of Brexit", and its editor Lionel Barber quite reasonably asked on Twitter: "but how rich is he really?".

Banks fumed in a tweeted reply: "I founded and sold a listed insurance business for £145m! Not even mentioned – no FT, fake news." That listed company was Brightside.

The amounts Banks has given to British politics are extraordinary.

The amount Banks made from the sale of Brightside is crucial to understanding whether Banks is really as rich as he says he is.

Company documents we have reviewed show Banks made £22 million from share sales, £1.2 million in salary from serving as the group's CEO and Chief Insurance Officer, and just £270,000 in dividends.

So when Banks had told the Financial Times in 2015 he was worth £100 million, where did this valuation come from? More importantly, if he only made £22 million from Brightside share sales – where did all this cash for Brexit campaigning come from?

The amounts Banks has given to British politics are extraordinary. A total of £6 million in loans, still outstanding, was made to Leave.EU. He famously pledged £1 million to UKIP in 2014, at a time when the organisation's finances were stalling. Without Banks, the political potency of the party may well have fizzled out. In 2016, his company, Better for the Country Ltd, also bought almost £2 million in pro-Brexit merchandise and donated it to Grassroots Out, another Brexit campaigning group. In total, his political contributions have come to nearly £10 million.

That would mean he might have given away almost half of what he made from Brightside to political causes. That seems amazingly generous.
"Serious and widespread failings"
As his own tweeted rebuke of the Financial Times suggested, central to the Banks mythology is the sale of Brightside Plc. in 2014. The buyer was private equity firm Anacap. Although he tweeted that the sale had been for £145 million, it was reported at the time as being worth only £127 million. How much, though, did Banks get?

The story starts in 2001 when Banks set up Group Direct, which was the principal operating company for his insurance brand Commercial Vehicle Direct. Group Direct made losses of over £400,000 in its first two years of operation, before finally turning a profit in 2004.

By 2006, overall debts had increased to £34 million, but the group appeared to be growing strongly, with turnover of £20 million. Banks began to aim for a public listing of the group. The same year, he became a director of Brightside, at that time a recently formed debt management service aimed at the personal insolvency market. Crucially, Brightside was already listed on AIM, the junior stock exchange.

In June 2008, the original Banks insurance group took part in a transaction known as a 'reverse takeover', in which a listed company takes over a much larger unlisted company. This allows the unlisted company to obtain a listing on a stock exchange quicker than usual. Under the terms of the deal, Brightside duly bought the three companies which constituted Group Direct. The £50 million valuation put on these companies seemed high but the deal did not boost Banks' bank account – as the consideration for the deal was in Brightside shares.

Then, in 2008, the financial crisis hit. As with many businesses, Banks' lending facilities came under pressure. But Banks was still able to raise money from Brightside's shareholders: in 2009 and 2010 the company raised a total of £29 million, attracting investors with its eye-catching growth rate and ambitious plans to acquire other companies.

Two of the assets Banks' firm acquired were the little-known insurance brands "E-Car" and "E-Bike." The price was an initial £15.5 million, with £19.1 million deferred, based on future profitability.

In fact, both brands were owned by Southern Rock Insurance, a company of which Banks, Gannon and Chase-Gardener collectively owned 72%.

Two other companies, "E Systems" and "E Development" were bought for a further £17 million in 2011. At the time E Development had net liabilities of over £500,000. E-systems had been set up just months before the sale by Banks, and Brightside IT director Simon Jones. It had no other customers than Brightside.

These acquisitions seem hard to justify, but in documents sent to Brightside shareholders notifying them of the proposed purchase of E-Systems and E-Development, the company stated that they had received undertakings from Banks and his fellow directors that the funds would be used to shore up the firms under-writer, Southern Rock, and thus allow Brightside to continue trading. And this is, indeed, what happened.

However, within the year Banks was fired from his role at Brightside. He famously recounted how he punched his partner and friend, Jim Gannon, in the face, when the solicitor broke the news to him.

Banks remained a shareholder in Brightside and in 2013, sold a tranche of his shares for £6 million to a competitor, Markerstudy, which was said to be contemplating a bid for the company. After conducting due diligence and negotiating with the Brightside board however, Markerstudy declined to make a full bid, with their CEO describing Brightside as "over-valued".

In 2014, the investment firm Anacap arrived and thought differently. They bought Brightside in its entirety, paying £127 million to take control.

Anacap have since alleged in court that the new management team discovered "serious and widespread failings" throughout the company, many dating from Banks' time as CEO and Chief Insurance Officer. All of the purchases of Banks' companies (E-Car, E-Bike, E-Systems, and E Development) were confirmed to be worth far less than had been paid for them. The software supplied by E-systems was said to barely function and the Brightside website was hacked and remained inoperable for over a month. Court documents obtained during our investigation allege widespread failings, including an incendiary allegation that the company was "in breach of its banking covenants and insolvent on a net asset basis." There were also, according to the same documents, no correct systems in place for the handling of client funds.

All of the purchases of Banks' companies were confirmed to be worth far less than had been paid for them.

For an insurance company, this was a particularly serious problem. Anacap replaced several senior staff and board members including the CFO, Paul Chase-Gardener. Over £35 million of value had to be written off from the Brightside balance sheet, in part because Anacap deemed the E-Car, E-Bike, E-Systems and E-Development purchases had been grossly overvalued. Within a year of the takeover, the new owners also had to plough in an additional £40 million to prevent the business from going bust. Further large write downs were made in 2015. Court documents show that £12 million had to be inserted in a failed attempt to repair the IT system alone, with numerous other consultants brought in to clear up the problems the new owners found.

openDemocracy asked Banks to comment on Anacap's view of the value of these businesses. He declined to reply to our specific questions, instead sending a copy of a letter which his lawyers wrote to the BBC in May of this year. In this letter his lawyers say: "The offer from Anacap to acquire Brightside was announced in May 2014 nearly two years after Mr Banks had left the company."

In 2016, Anacap began legal action against Chase-Gardener and Brightside's auditors for failures to adequately manage the business and present accurate financial reports. With the assistance of his brother Jonathan, a Hong Kong based lawyer, Banks was able to settle out of court in May 2015. Privately, many of the new senior management team brought in by Anacap wanted to pursue the case against him. As part of their settlement with Banks, Anacap were able to extricate Brightside from contracts with other Banks controlled businesses, such as Southern Rock, which they described as "onerous." The case against Chase-Gardener is still being pursued in the High Court, where Anacap are seeking £20 million in damages from him. The auditors, BDO (now part of RMS Tenon), are facing a claim of around £50 million.
Southern Rock in difficulty
Arron Banks with former UKIP leader Nigel Farage. Ben Birchall/PA Images. All rights reserved.While at Brightside, Banks had been able to partly re-finance the ailing Southern Rock, through buying E-Cars, E-Systems, E-Development and E-Bike from the Gibraltar based group. But the Gibraltar Financial Services Commission had also passed their report to the Financial Conduct Authority in London for review.

The authorities in London concurred with the Gibraltar regulator's findings, that Southern Rock had been trading without sufficient reserves, and in 2013 Banks voluntarily recused himself from the FCA register. He stepped down as a director of Southern Rock in 2014. Both regulators had effectively barred him from holding a position of control within an insurance business.

He also had to balance the books. While the funds from the sale of E-systems and E-development were passed to Southern Rock, this still left the business short of the capital needed to fund its loss reserves as the company struggled with high claim levels and a challenging market. He told Private Eye he had agreed to find £40 million to re-capitalise the business. Banks claims that Southern Rock is now a profitable company. The letter from his lawyers to the BBC, forwarded to openDemocracy, says "Southern Rock Insurance Company Limited recorded a profit of £42 million in its latest set of filed accounts (2015)."

Banks frequently boasts about running an insurance business. The reality is that he is not permitted, at the moment, to run his own insurance company.

In fact, the accounts show an underlying loss of £27.9 million on its underwriting and insurance activities in 2015 – and while the company did report a profit of £41.5 million overall, this came only after selling the rights to the "ancillary income" on its motor insurance policies for £17.5 million, and the rights to the "finance arrangement fees" for £60.2 million to another company owned by Banks, Isle of Man-based ICS Risk Solutions. Ancillary income is an umbrella term for any money an insurance company makes on top of ordinary under-writing risks, for example from instalments or administration charges.

Given Southern Rock had only written 197,000 motor insurance policies at this time, paying nearly £78m for these rights seemed a high valuation. These assets had also not been recorded in the Southern Rock balance sheet prior to their sale, and resulted in the company booking a large capital gain. Crucially, it was the value of these sales that enabled Southern Rock to meet its obligation under the solvency regulations, and post a profit in its accounts for this year.

Whether Southern Rock will be able to do the same next year, which will likely be required under the terms of capital restructuring deal mandated by the regulators, is unclear. Banks strongly contests the assertion that Southern Rock is in difficulty, pointing out that the Gibraltar regulator, Southern Rock's independent auditors and the London-based Financial Conduct Authority have approved the arrangements, and that all the payments to date from ICS Risk Solution, which Southern Rock relies on to remain solvent, have been made on time and in full. The letter from his lawyers states: "The future solvency of [Southern Rock] is not dependent on any particular future transaction."

As for the regulators' demand that Banks "voluntarily" recuse himself, he has abided by the ruling, but appointed his Hong Kong-based brother in his stead. His name and signature still appeared on a 2014 annual report filed at Companies House, where he was named as a "director." "This mistake arose from an administrative error," he told us in a written statement, "which was corrected as soon as it was detected. Once the error was noted, the accounts were withdrawn and resubmitted to Companies House." He continues to control Southern Rock and Eldon Insurance, owner of the GoSkippy brand, through his holding company ICS Risk Solutions.

Banks frequently boasts about running an insurance business. The reality is that he is not permitted, at the moment, to run his own insurance company. A letter from the Financial Conduct Authority concerning the investigation into his insurance activities, dated 17th July 2017, states that "Mr Banks does not have FCA approval to carry out an operational executive role at Eldon Insurance Services Ltd," his new firm.

Banks's Isle of Man-based ICS Risk Solutions is a curious organisation too. In theory, this is the ultimate holding company for Banks's insurance empire. Yet according to a source with good knowledge of its finances, ICS Risk Solutions has just £1 million in assets, and still owes £60.2 million in monthly instalments, to Southern Rock. These payments are expected to continue until December 2020. A letter from Banks' lawyers confirming this also said "there is no reason to doubt that the remaining outstanding amounts will be paid in full and on time," and that Southern Rock is required to report monthly to the Gibraltar authorities, "to confirm the payment of each monthly instalment," and so "any failure to pay would be immediately apparent."

Banks' present financial status is then somewhat unclear, and sometimes dependent on buying assets from one company, in order to shore up another company he himself holds a stake in. But it does seem clear that his claimed worth of £100 million is hard to justify. In the letter sent to openDemocracy, Banks claimed his worth could be even higher than £100 million, saying that he would "broadly agree" with an analysis made by the Sunday Times Rich Times list that his net worth could instead be some £250 million. When asked to explain how he accounts for all this extra wealth, Banks declined to comment.
A Lazarus-like recovery
Banks's finances seem to have had a remarkable recovery in early 2014. But based on a full review of all the publicly available information about his companies, it is unclear where this money could have come from.

He first had to settle a tax bill with HMRC for £1.86 million, a cheque which he subsequently sent to the Guardian newspaper to prove he was paying his taxes.

In April 2014, the MailOnline reported how Banks had raised eyebrows when he bought £2 million of shares in an AIM-listed chemicals company called Iofina – a sector he had shown no prior interest in. The company produces iodine in an industrial process which takes place alongside fracking. It had never turned a profit and swallowed up large amounts of capital as chemical prices shrank due to reduced demand. Banks's investment is nursing a huge loss.

In June 2014, he set up Chartwell Political, a PR company which would go on to work on the Leave campaign with Jim Pryor, a former Tory party spokesman who had also worked on FW deClerk's campaign against Nelson Mandela in South Africa and former Sunday Mirror editor Bridget Rowe, a close friend of Nigel Farage. The company would rack up losses of over £300,000 by June 2015.

Banks would go on to spend a total of £9.6 million of his personal fortune funding the organisations which arguably clinched Brexit. This accounted then for half of his lifetime earnings.

The next month, in July 2014, Banks bought more shares in STM Group plc, which offers "wealth preservation solutions," and specialises in setting up offshore trusts and companies. He bought over £600,000 worth of shares – on top of an existing shareholding. This brought his total share value up to £1.5 million.

By September 2014, Banks had also bought a loss-making, family-run jewellery shop in Bristol, for an undisclosed sum, and lent the firm some £200,000, and by February 2015 he was the owner of four diamond mines in South Africa.

The diamond market had fallen sharply since the financial crash and big players, such as de Beers, began to withdraw from older mines picked clean and requiring huge investment to return to profitable production. Many of these mines had changed hands several times in the years since. One of the mines Banks picked up had collapsed in value from a reported £12 million valuation in 2005, to as little as £200,000 by the time Banks bought.

One of the four mines also remains closed, according to Banks's website, another contains just "tailings," meaning there little more than piles of waste to scrabble through. What exactly motivated Banks to buy these mines remains unclear.

Crucially, October 2014 also marked the time Banks began his extraordinarily lavish political spending campaign, with his first £1 million pledge to the United Kingdom Independence Party. Interestingly, Banks never came fully good on this promise – dripping in just over £400,000 in cash instalments over the next six months. Nevertheless, Banks's 2014 spending alone, or what can be seen of it from publicly available records, came to an estimated £5 million. This was a very large sum given the pressure he was under from the Gibraltar regulators. We also estimate it to be just under a quarter of his total gross earnings of £22m – from his various businesses – since 2001.

Nor did his political spending slow down. Banks would go on to spend a total of £9.6 million of his personal fortune funding the organisations which arguably clinched Brexit: Leave.EU, UKIP and Better for the Country Ltd (set up by STM Fidecs). This accounted then for half of his lifetime earnings – an amazingly generous amount.

One of his most lavish donations was some £2 million to Grassroots Out via Better for the Country Ltd, which was categorised to the Electoral Commission as "non-cash" – a designation usually reserved for the provision of office space or in-kind services to political parties. In reality, even this "non-cash" donation cost Banks significant amounts of hard cash. In a letter to openDemocracy, Banks' lawyers say Better for the Country bought "merchandise, leaflets, billboards, pens, badges and other paraphernalia," before donating all of this to Grassroots Out.

In early 2016, he used Better for the Country to make cash donations to Trade Unionists Against the European Union, and another pro-Brexit group called Veterans for Britain. Banks also provided £100,000 to Martin Durkin, a climate change sceptic and producer of "Brexit: The Movie," a controversial online documentary produced to support the campaign. The sum was equivalent to a third of the documentary's reported budget.

These donations were all the more remarkable because his new insurance company, founded after Banks left Brightside, was now also requiring large amounts of investment, according to industry experts. Eldon Insurance achieved a profit of just £281,000 on a turnover of £33.6 million in 2015.

Earlier this year, Banks attempted a £200m fundraising effort for Eldon, according to the Times, but was unable to raise the finance from City investors and abandoned the listing. Profits fell further in 2016, to just £165,000. Earlier this month, Banks announced he was attempting a second public listing, and aiming for a valuation of some £250m. He claims to be forecasting a dramatic increase in profits – anywhere between £25m and £28m for the year. To support this claim he provided the Mail on Sunday with unpublished figures showing the profits for the first six months of the year. We asked for a copy of these, but his spokesperson did not respond.

To drum up business, Banks' insurance brand GoSkippy now advertises heavily on Leave.EU's websites, social media and email marketing. However there are numerous reports of poor customer service, onerous terms obfuscated in confusing small-print and administrative failings by the company, some of which have left motorists unaware that they were no longer insured. In response, Banks commented that "Eldon works very hard on complaints and actively reviews its processes off the back of both internal and external audits of both customer service quality and compliance with regularity requirements," saying their main brand GoSkippy had complaint levels below 3 per 1000 customers, and that a maximum of 4 per 1000 was the industry guideline.

Southern Rock, despite its difficulties both before and after the regulators' intervention, has until very recently been the principal under-writer of both Banks' Go Skippy brand and the Debenhams Insurance brand. The letter from Banks' lawyers points out that the recapitalisation plan designed to allow Southern Rock to meet its solvency obligations were approved by the regulator and the company's independent auditors and that they have a perfect record of delivering their monthly payments to date on time and in full.

It is clear, however, that the company only posted a profit last year by relying on the £60 million generated from selling rights to other companies controlled by Banks. To continue to trade on a solvent basis in the years to come, Southern Rock will need to have a profitable underlying business, or have additional cash injections.

And Banks' own Eldon Insurance, which owns GoSkippy, now plans to move its business from Southern Rock – instead setting up a "managing general agent" called Somerset Bridge, which will be arranging under-writing services from a different Gibraltarian under-writer, backed by a Bermuda-based reinsurer.
The fabric of our democracy
Interestingly, our review of Banks' business empire also shows a huge cross-over between the key figures in Leave.EU and Banks' businesses. Leave.EU's Chief Executive Officer Liz Bilney serves on the board of numerous Banks' companies.

Leave.EU's director of communications, the Belizean diplomat and close associate of Lord Ashcroft, Andy Wigmore, was appointed to the board of Southern Rock in 2014 and joined Eldon Insurance in December 2015, despite having no background within the industry.

Crucial to maintaining the fabric of democracy in Britain is understanding where large donors have made their money, and just as importantly, how.

Banks holds a substantial share in Manx Financial, an Isle of Man banking group controlled by Leave.EU's early backer and co-founder Jim Mellon. The meagre profits of Manx Financial have not yet provided dividends to its investors – including Banks.

Crucial to maintaining the fabric of democracy in Britain is understanding where large donors have made their money, and just as importantly, how.

Our review of the publicly available records for Banks' business empire, and his own public statements, has revealed a patchwork of legal disputes, regulator interventions, and poor corporate governance. Two of Banks' claimed previous employers have denied he ever worked for them. The value of his businesses are materially lower than Banks' own inflated boasts and, while still a wealthy man, was he wealthy enough to give so much to the Brexit campaign, without some other undisclosed source of income?

How Banks could afford to give so lavishly remains a mystery. There is no doubt that Banks did more than most to make Brexit happen – the question is, how could he afford it?
To view the original of this article CLICK HERE
The money given by Arron Banks to Leave.EU in the run-up to the referendum was the biggest donation in British political history. Photograph: Jonathan Brady/PA
A Labour MP has said there are "real questions" about how much Arron Banks – the entrepreneur who bankrolled Brexit – is worth as he called on the government to investigate the possible role played by "dark money" in the EU referendum.

Speaking in parliament, Ben Bradshaw said there was "widespread concern over foreign and particularly Russian interference in western democracies". He described as "very worrying" a series of investigative reports published this week by the Open Democracy website into the funding of the Leave campaign.

The money given by Banks to Leave.EU in the run-up to the referendum was the biggest donation in British political history. The Bristol-based businessman says he contributed almost £9m in cash, loans and services to pro-Brexit causes. It is impossible to determine what impact – if any – his donations had on the result.

Banks has previously claimed he is worth £100m. An estimate by the Sunday Times puts his fortune at £250m. However, an analysis by Open Democracy suggests the actual figure may be considerably lower.

Bradshaw asked the leader of the Commons, Andrea Leadsom, if she had seen the reports "about the role of dark money in the EU referendum campaign". They included "revelations of illegal donations" and "new questions today over the real wealth of Arron Banks, the main financial backer of leave".

Bradshaw urged parliament and the Electoral Commission to examine these claims "very carefully". Given the Kremlin's role in influencing elections elsewhere, they should "reassure the country that all the resources spent in the referendum were from permissible sources", he told MPs.

According to Bradshaw, the "illegal" donation to Brexit was made via the Democratic Unionist party in Northern Ireland. The person behind the £435,000 payment made in 2016 before the referendum remains a mystery. Rules have now been changed to introduce greater transparency, but it is unclear who – or what – lay behind these funds.

The analysis by Open Democracy says that in September 2013 Banks's financial affairs were in trouble. His underwriting business Southern Rock was under scrutiny from financial regulators in Gibraltar and had reserves below what was required. Banks said he invested £40m in the business to plug any shortfall and resigned as a director.

"A year later, these financial worries seem to have completely evaporated. Banks had begun buying diamond mines, investing millions into chemical companies and wealth management firms, setting up loss-making political consultancies, and most famous of all – funding Ukip," Open Democracy wrote.

The article adds: "One question remains though. If Banks was in such a tight spot in September 2013, how did he manage to be so generous the following year?"

There are a number of perfectly innocent ways that Banks could have obtained the extra funds, Open Democracy admits. Much of his wealth is held in opaque offshore jurisdictions including Belize, the Isle of Man, the British Virgin Islands and Gibraltar, making an assessment of his fortune difficult.

Banks didn't immediately comment. His spokesman has previously described his businesses including Southern Rock as profitable and sustainable, and says that Banks "broadly agrees" with the £250m estimate of his fortune.

Replying for the government, Leadsom described Bradshaw's question as "incredibly important" and said that any specific information concerning wrongdoing should be referred to the Electoral Commission.

"I absolutely share his concern that all donations should be permissible and legal," she said.
To view the original of this article CLICK HERE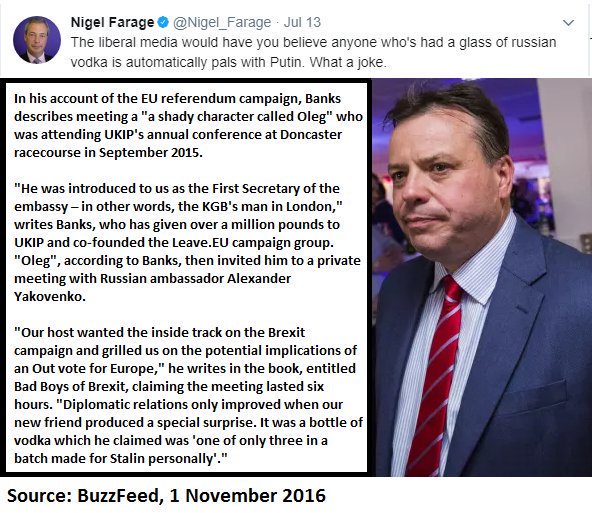 Regards,
Greg_L-W.
~~~~~~~~~~#########~~~~~~~~~~
Posted by: Greg Lance-Watkins
tel: 44 (0)1594 – 528 337
Calls from 'Number Withheld' phones Are Blocked
All unanswered messages are recorded.
Leave your name & a UK land line number & I will return your call.
'e'Mail Address: Greg_L-W@BTconnect.com
~~~~~~~~~~#########~~~~~~~~~~
With an avg. 1.2M voters per MEP & Britain with 16% of EU GDP and 13% of the EU's population yet  having only 8% (if united) say whilst holding less than 3% of the various offices within the EU Do note The EUropean Parliament has no ability to make policy and has a Commission of unelected bureaucrats, thus clearly the EU is not even a pretence of being a democracy!

Do note that many senior apparatchicks and even elected politicians speak openly of the 'Post Democratic era' with no sense of shame or irony and in complete contempt of the so called electorate – yet The EU & many of its vassal States/Regions are all too willing to slaughter people in Sovereign States, to impose The EU's chosen brand of democracy on them!Now as President Junker announced in his 'State of the union' speech 2017 the aim is to create an EU military force and centralise ever more of the decision making and control!

The imposition of a Government and policies upon its vassal regions such as the peoples of Greece shows just how far from being a democracy the EU is.

There will be little or no change in Britain's economic position, when we leave the EU, using a better negotiated, customised & updated version of the 'Norway Model' as a stepping stone to becoming a full member of the Eropean Economic Area, where all will benefit, as we secure trade relations with the EU's vassal regions, with an EFTA style status and can trade and negotiate independently on the global stage, as members of The Commonwealth and the Anglosphere.
Do not overlook the fact that politicians have plotted and schemmed since the 1950s and we have actually been vassals of the EU, when it was still using the aesopian linguistics and calling itself The Common Market in the early 1970s, a name the bureaucrats arbitrarily changed to EUropean Union in the early 1990s as they worked towards their long term goals of an ever closer centrally controlled Political and economic Union with its own anthem, currency, flag and rigid central control by its self appointed bureacrats towards a new Empirate –

It will take many years to rectify the mess our political class got us into and we have no other peacefull means by which to extricate ourselves than to depend on that self same self styled elite, who all too often forget they work for us!
One huge benefit of BreXit will be that we can negotiate with bodies like the WTO, UN, WHO, IMF, CODEX and the like, directly, in our own interest and that of our partners around the world, in both the Commonwealth and the Anglosphere at large; rather than having negotiations and terms imposed by unelected EU bureacrats and their interpretation of the rules handed down, as if they were some great achievement of the EU's!

The greatest change and benefit will be political, as we improve our democracy and self determination, with the ability to deselect and elect our own Government, with an improved Westminster structure, see >

Harrogate Agenda

<.

How we go about the process of disentangling our future wellbeing from the EU is laid out in extensive, well researched and immensely tedious detail see >

FleXcit

< or for a brief video summary

CLICK HERE
~~~~~~~~~~#########~~~~~~~~~~
DO MAKE USE of LINKS,
>SEARCH<
&
>Side Bars<
&
The Top Bar >PAGES<Also:
You will find me on both Skype & Twitter but I do not utilise the attrociously regulated FaceBook nor similar social media.
Skype: GregL-W
TWITTER: @Greg_LW
You are encouraged to contact me with information or to effect a correction on any of my postings – BUT I only respond to individuals providing a verifiable name, address and land line telephone.
NB:
I NEVER post anonymously on the internet
ALL MY BLOGS & WEB SITES are clearly sourced to me
I DO NOT use an obfuscated eMail address to hide behind
I DO NOT use or bother reading FaceBook
I DO have a Voice Mail Message System
I ONLY GUARANTEE to answer identifiable eMails
I ONLY GUARANTEE to phone back identifiable UK Land Line Messages
I DO NOT accept phone calls from witheld numbers
I REGRET due to BT in this area I have a rubbish Broadband connection
I AM opposed to British membership of The EU
I AM opposed to Welsh, Scottish or English Independence within an interdependent UK
I AM NOT a WARMIST
I DO NOT believe the IPCC Climate Propaganda re Anthropogenic Global Warming
I AM strongly opposed to the subsidy or use of failed technologies eg. WIND TURBINES
I AM IN FAVOUR of rapid research & development of NEW NUCLEAR, Thorium & Psi/Si technologies
I see no evidence to trust POLITICIANS at any level or of any persuasion
I DO NOT believe in GODS singular or plural, Bronze Age or Modern
I VALUE the NHS as a HEALTH SERVICE NOT a Lifestyle support
I BELIEVE in a DEATH PENALTY for serial or GBH rape.
I BELIEVE in a DEATH PENALTY for serial, terrorist, mass or for pleasure murder.
I BELIEVE in a DEATH PENALTY for serial gross child abuse including sexual.
I DO NOT trust or believe in armed police
I DO NOT believe in prolonging human life beyond reasonable expectation of sentient participatory intellectual existence
I BELIEVE in EUTHENASIA under clearly defined & legal terms
I DO TRY to make every effort to NOT infringe copyrights in any commercial way & make all consequential corrections of fact brought to my attention by an identifiable individual
Re-TWEET my Tweets
To Spread The Facts World Wide