DO SEE OUR MAIN WEB SITE
@ CLICK HERE
DO MAKE USE of LINKS,
>SEARCH<
&
>Side Bars<
&
The Top Bar >PAGES<
———-
~~~~~~~~~~#########~~~~~~~~~~
.
Brexit: tales of Honda …
.
~~~~~~~~~~#########~~~~~~~~~~
Posted by:
Greg Lance – Watkins
Greg_L-W
eMail Address:
Greg_L-W@BTconnect.com
Blog About The Main Web Site:
https://InfoWebSiteUK.wordpress.com
~~~~~~~~~~#########~~~~~~~~~~
Hi,
the duplicity of the MSM is quite staggering even this evening the BBC is trying to pretend that Honda's withdrawal is due to BreXit despite the undeniable fact that Britain is their best European national market and right across Europe their collapse in sales has in 2018 been greater than during the bank crash.
To cap this problem sales of their diesel motors have more noticeably collapsed and it seems likely that at some time between 2030 & 2040 oil derivative based fuel engines are likely to be banned and during the intervening years emision controls are likely to become annually more harsh – driving car makers into a strong period of investment in R&D for developement of electric motors and other propulsion fuels for vehicle engines.
Another major reason for Honda withdrawing from Swindon production is that not only have European sales collapsed but America is a considerably larger market.
Finally consider the fact that the EU has negotiated a tariff free relationship with Japan, effectively creating a favoured nation status, thus making it cost effective for Japan to repatriate R&D and automotive production to Japan & ship to the relevant markets creating a boost to the Japanese economy and jobs – at a directly damaging effect to Britain as the EU has refused Britain favoured nation status as any allied friend a status given to Japan!
Perhaps now you can see why Nissan has also been making damaging noises ALL car sales are down right across Europe and all Japanese motor companies will enjoy zero tariff if trading from Japan with the EU.
It is also worth noting that Jaguar – Land Rover have also announced cutbacks – obviously no car manufacturer is going to advertise their failure as a marque and as management is in control of announcements they are hardly likely to admit to having massively miscalculated the market and having a huge preponderance of investment in diesel engines just as the bottom has dropped out of the diesel market worldwide due to its polution levels – management rarely admits errors!
That the media is so currupt in its reporting is hardly surprising and it is not just the BBC and The Guardian that seek to blame all problems on BreXit – Bad and incompetent management always finds someone else to blame, just look at the utter incompetence of the failed Regional Assembly in Wales – first they blamed their failure on firstly lack of Powers, then Austerity, next lack of tax raising power and now BreXit, no sign of the truth there just sufficient excuses to cover 21 years of total incompetence excuses on a par with 'the dog ate my homework'!
Then of course let us not forget the endless efforts of many a commentator blaming all their failures and those of their favoured Parties and pundits on BreXit – Sky news has even gone so far as to open their programmes with a new full screen logo seeking to portray BreXit as Crisis at all times.
Risible really when you realise their last advertising campaign was to promote Leadership Debates in all General Elections to suit their agenda of personality cult politics – despite constant advertising on TV day in day out it took them months to obtain the 100K votes to ensure a Parliamentary debate which was a totally damp squib!
Let us not forget that as a single individual using her own money the independent MEP Nikki Sinclaire obtained over 225,000 paper signatures in her petition for an IN/OUT EU Referendum debate which led to a Parliamentary debate and a vote which provided David Cameron with his largest defeat in office and subsequent Tory Manifesto commitment to hold a Referendum, a promise that returned his party with a majority having destroyed theLiberal Democrats who opposed it!
Lets face it Nikki Sinclaire was acquitting her duty as a politician who as an MEP had been elected to actively campaign to Leave the EU – acted with integrity – Just as have the Japanese car manufacturers in seeking to maximise their opportunities and cut their losses by repatriating in the financial interests of their shareholders.
Tata Industries of India as owners of Jaguar / Land Rover have a similarly ethical position having NOT lied to blame BreXit all be it they have obfuscated the true reasons for their failure to save faces of their management incompetence!
On the other hand Politicians and the media have been shown in an appauling light as they have consistently set out to mislead the public.
Dr. Richard North is spot on, as ever, with his analysis of the areas of the situation he has covered:
Brexit: tales of Honda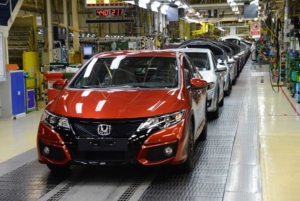 What has been missed in the torrent of media coverage on the closure of the Honda plant is the quite disgusting role of the media and, in particular, Sky News.
As happened with Nissan, they jumped the gun on the official announcement, breaking the news before the company had had the opportunity to make its official statement. Inevitably, speculation then dominated the news agenda, with the Brexit angle strongly featured in many of the subsequent media stories.
Sky's behaviour is not untypical of the legacy media, where they are obsessed with setting the news agenda. The television news station had got itself a "scoop" and the fact that the story was going to be distorted as a result was of no significance, Nothing matters compared with fulfilling Sky's ambitions.
It was partly for that reason that I wrote in my earlier blogpost about the readiness of the media to jump the gun, noting that, when it comes to reporting actual news on Brexit, the real news, the personality lottery decides what we get to be told. Largely, the media will publish stuff to its advantage, but when it comes to its obligation actually to publish news in such a way as to inform the public, it goes AWOL.
Despite the speculation though, when the car company finally published its statement, confirming the Swindon plant closure, it did not mention Brexit. In fact, Ian Howells, Honda's senior vice president for Europe, stated that the decision was "not a Brexit-related issue for us".
Instead, Honda talked of unprecedented changes in the global automotive industry and of the need to restructure its global manufacturing network. The company was to accelerate its commitment to electrified cars and focus activity in regions where it expects to have high production volumes.
Interestingly, this global restructure was also to "involve" the company's operations in Turkey and, with Turkish production of the Civic sedan model finishing in 2021, the company intends to hold constructive dialogue with Turkish stakeholders.
Despite the absence from the statement of any mention of Brexit, Phillip Inman of the Guardiannevertheless surmised that was not in the interest of departing carmakers to blame Brexit – mainly to avoid hostile local reaction.
However, given the complexity of the car market, there must be much more to the Honda action than meets the eye. And nor is Honda on its own. The reality is that the car industry as a whole is going through what might be described as a "shitstorm", one which has massive long-term implications.
Whatever is actually happening, it has caught the industry by surprise. In a 2015 report for the Society of Motor Manufacturers and Traders (SMMT), the authors predicted that the UK automotive industry was "poised for continued growth in both vehicle production and local sourcing of components". They forecast that by 2020, the industry would be producing two million vehicles a year, compared to then current annual total of around 1.5 million.
Honda certainly seemed to share the optimism and had serious ambitions for the Swindon plant – the sole global source for the new 5-door Civic. By 2017, it was aiming for a production of 165,000 units, up 18 percent on the previous year.
Interestingly, although the presence of Honda in the UK equips it to serve the EU market, around 15 percent of production was allocated to the UK market and only 35 percent to mainland Europe. The balance of 50 percent went to the rest of the world (mainly North America).
However, 2017 was to be the last good year for the industry. Contrary to expectations, by March 2018, domestic demand had slumped by double-digit figures. This was attributed to consumers "holding back" on big ticket purchases.
By October, the situation had continued to deteriorate, with a double-digit fall being recorded for September. A bundle of causal factors was being suggested, ranging from "growing fears" of a no-deal Brexit, model changes and testing backlogs after tougher new emissions regulation.
The following month was worse and, in the new year, Reuters was recording that British new car sales in 2018 had fallen at their fastest rate since the global financial crisis in the previous decade. The downturn was then being attributed to the collapse in demand for diesel and the motor industry was warning of the "existential threat" to the sector posed by Brexit. Strangely though, although people weren't buying new diesels in quantity, they weren't buying petrol models instead.
An explanation is not hard to find. Industry analysts had been reporting elsewhere, with increasing concern, the creation of a leasing "bubble", arising from the growing popularity of what are known as personal contract plans (PCPs). These were said to have driven car sales to the new "record highs" that were being experienced. Some eighty percent of new cars being bought through these plans.
Then, exactly coinciding with the downturn in demand, came reports such as this suggesting that the nation's big ticket spenders were getting over "their addiction to credit".
Justin Benson, KPMG's UK head of automotive was under no illusions. There was, he said, "evidence to suggest that the new car market is pretty saturated, i.e., most cars in the last few years have been bought using PCP plans. So many are using the vehicles they already have and we are seeing a drop in demand – although Brexit is also in the back of people's minds".
Particularly worrying for Honda must have been US sales, where PCPs had proved just as popular. There, a new report from the Federal Reserve Bank of New York indicated that more than seven million Americans had reached "serious delinquency status" on their car loans – making them at least 90 days behind on payments. This was invoking the spectre of another sub-prime loan scandal.
Exactly the same phenomenon was being reported here in the UK, while the Guardian was reporting that the "four-wheeled binge" had reached a record £31.6 billion of debt in 2016.
In 2017, the total borrowing was expected to exceed £40 billion. Cash purchases were "almost unknown", and a record of 2.7 million new cars had been sold in Britain the previous year, way above expectations. Sales in 2017 had made it the fifth annual increase in a row. The British were buying more cars per head than any other large country in Europe.
But there were other consequences. Stanley Morgan warned that the system was pushing a glut of nearly-new cars onto the market, bigger than the entire aggregate UK demand for new cars in some years.
With the loan market saturated and experiencing consumer resistance, and a glut of cheap, good quality used cars on the market, prices were depressed and the market was quite obviously set for a downturn. Yet, over the last few days or so, when the role of Brexit has been vigorously discussed in relation to Honda, such issues have barely featured in media reports.
Had journalists looked a little deeper at their own reports, they would have seen industry analysts continually reporting that high production levels constituted a "bubble" that could not be sustained. Brexit begins to look like a coincidence. From the look of the market, a contraction was going to happen anyway.
Another factor to note is that the Honda factory is only running at 60 percent capacity. Faced with an industry-wide market correction and a long-term downturn in demand, Honda is particularly vulnerable. Its sales have been struggling in general across the European market and, in the last decade, have almost halved.
It thus makes total sense for Honda to cut back on the number of plants, bringing production back under one roof where economies of scale can easily outweigh any other factors. If Brexit is a factor in the closure of the Swindon plant, it is only one of many, and by no means the most important.
Richard North 20/02/2019
To view the original article CLICK HERE
Regards,
Greg_L-W.
~~~~~~~~~~#########~~~~~~~~~~
Posted by: Greg Lance-Watkins
tel: 44 (0)1594 – 528 337
Calls from 'Number Withheld' phones Are Blocked
All unanswered messages are recorded.
Leave your name & a UK land line number & I will return your call.
'e'Mail Address: Greg_L-W@BTconnect.com
~~~~~~~~~~#########~~~~~~~~~~
With an avg. 1.2M voters per MEP & Britain with 16% of EU GDP and 13% of the EU's population yet  having only 8% (if united) say, whilst holding less than 3% of the various offices within the EU Do note The EUropean Parliament has no ability to make policy and has a Commission of unelected bureaucrats, thus clearly the EU is not even a pretence of being a democracy despite its protestations!

Do note that many senior apparatchicks and even elected politicians speak openly of the 'Post Democratic era' with no sense of shame or irony and in complete contempt of the so called electorate – yet The EU & many of its vassal States/Regions are all too willing to slaughter people in Sovereign States, to impose The EU's chosen brand of democracy on them!

Now as President Junker announced in his 'State of the union' speech 2017 the aim is to create an EU military force and centralise ever more of the decision making and control!

The imposition of a Government and policies upon its vassal regions such as the peoples of Greece shows just how far from being a democracy the EU is.

Just follow the recent EU display of so called 'Democracy':
France and the Netherlands voted against the proposed EU constitution in 2005, only to have those votes ignored.
Ireland voted against ratifying the Lisbon treaty in 2008, but then later under pressure & threats had to change its mind.
Greece for me was the final straw. It became clear in 2015 that it didn't matter which way the Greek people voted. The birthplace of democracy had become its tomb. That was enough. I was going to vote to leave the EU when the chance came.

No political party of any significance in Britain took active steps to achieve a Referendum – the task was eventually taken by an Indipendent West Midlands MEP Nikki Sinclaire who personally launched and funded the gathering of a petition of 225,000 signatures delivered to Parliament via Downing Street, thus forcing a debate in the House of Commons on an IN/OUT Referendum, which led to David Cameron's first consequential rebellion.

It was due to winning that debate, officially opposed by every party including Ukip that David Cameron was forced to include a promise of an IN/OUT Referendum in the Tory Manifesto at the next General Election. The rest is history & despite no Parliamentary Party backing the OUT vote & Government spending Millions of Pounds of public money leafletting & promoting 'Project Fear' to try to persuade the British people to Remain just as they had at the first Referendum in 1975 – This time their lies and threats were not heeded and in the largest vote in British history Britain voted by a clear majority to Leave.

Nikki Sinclaire's OUT result left Cameron & his co conspirator Osborne with no option but to resign, sadly some of the other traitors have remained to try to hinder progress to BreXit, aided by their corrupt allies in the EU and \eu funding and bribes!

There will be little or no change in Britain's economic position, if we leave the EU, using a better negotiated, customised & updated version of the 'Norway Model' as a stepping stone to becoming a full member of the Eropean Economic Area, where all will benefit, as we secure trade relations with the EU's vassal regions, with an EFTA style status and can trade and negotiate independently on the global stage, as members of The Commonwealth and the Anglosphere.

This is of course dependent on a modicum of intelligence on the part of Britain's politicians and negotiators but it also requires the integrity of Parliament to uphod democracy and the integrity of EU politicuians & apparchicks to act ethically and without their normal vindictive mallice.

I believe Leaving the EU will be turned into something of a rough ride by the ignorant and the corrupt but I have no doubt that in the long run Leaving the EU will prove conclusively to be in the best interests of Britain and our true allies. I also believe that Britain leaving the EU will prove to be the catalyst to great changes within the EU and hopefully its democratisation as without great changes it is indubitably doomed.
Do not overlook the fact that politicians have plotted and schemmed since the 1950s and we have actually been vassals of the EU, when it was still using the aesopian linguistics and calling itself The Common Market in the early 1970s, a name the bureaucrats arbitrarily changed to EUropean Union in the early 1990s as they worked towards their long term goals of an ever closer centrally controlled Political and economic Union with its own anthem, currency, flag and rigid central control by its self appointed bureacrats towards a new Empirate –

It will take many years to rectify the mess our political class got us into and we have no other peacefull means by which to extricate ourselves than to depend on that self same self styled elite, who all too often forget they work for us!
One huge benefit of BreXit will be that we can negotiate with bodies like the WTO, UN, WHO, IMF, CODEX and the like, directly, in our own interest and that of our partners around the world, in both the Commonwealth and the Anglosphere at large; rather than having negotiations and terms imposed by unelected EU bureacrats and their interpretation of the rules handed down, as if they were some great achievement of the EU's!

The greatest change and benefit will be political, as we improve our democracy and self determination, with the ability to deselect and elect our own Government, with an improved Westminster structure, see >

Harrogate Agenda

<.

How we go about the process of disentangling our future wellbeing from the EU is laid out in extensive, well researched and immensely tedious detail see >

FleXcit

< or for a brief video summary

CLICK HERE
~~~~~~~~~~#########~~~~~~~~~~
DO MAKE USE of LINKS,
>SEARCH<
&
>Side Bars<
&
The Top Bar >PAGES<Also:
You will find me on both Skype & Twitter but I do not utilise the attrociously regulated FaceBook nor similar social media.
Skype: GregL-W
TWITTER: @Greg_LW
You are encouraged to contact me with information or to effect a correction on any of my postings – BUT I only respond to individuals providing a verifiable name, address and land line telephone.
NB:
I NEVER post anonymously on the internet
ALL MY BLOGS & WEB SITES are clearly sourced to me
I DO NOT use an obfuscated eMail address to hide behind
I DO NOT use or bother reading FaceBook, Instagram etc.

I DO have a Voice Mail Message System
I ONLY GUARANTEE to answer identifiable eMails
I ONLY GUARANTEE to phone back identifiable UK Land Line Messages
I DO NOT accept phone calls from witheld numbers
I REGRET due to BT in this area I have a rubbish Broadband connection
I AM opposed to British membership of The EU & have actively opposed it since C1960

I AM opposed to Welsh, Scottish or English Independence within an interdependent UK
I AM NOT a WARMIST
I DO NOT believe the IPCC Climate Propaganda re Anthropogenic Global Warming
I AM strongly opposed to the subsidy or use of failed technologies eg. WIND TURBINES
I AM IN FAVOUR of rapid research & development of NEW NUCLEAR, Thorium, Hydrogen & Psi/Si technologies
I see no evidence to trust POLITICIANS at any level or of any persuasion
I DO NOT believe in GODS singular or plural, Bronze Age or Modern
I VALUE the NHS as a HEALTH SERVICE NOT a Lifestyle support
I BELIEVE in a DEATH PENALTY for serial or GBH rape.
I BELIEVE in a DEATH PENALTY for serial, terrorist, mass or for pleasure, gain or profit murder.
I BELIEVE in a DEATH PENALTY for serial gross child abuse including sexual.
I DO NOT trust or believe in armed police
I DO NOT believe in prolonging human life beyond reasonable expectation of sentient participatory intellectual existence
I BELIEVE in EUTHENASIA under clearly defined & legal terms
I DO TRY to make every effort to NOT infringe copyrights in any commercial way & make all consequential corrections of fact brought to my attention by an identifiable individual
Re-TWEET my Tweets
To Spread The Facts World Wide