DO SEE OUR MAIN WEB SITE
@ CLICK HERE
DO MAKE USE of LINKS,
>SEARCH<
&
>Side Bars<
&
The Top Bar >PAGES<
~~~~~~~~~~#########~~~~~~~~~~
.
Lifting The Veil on 'Led By Donkeys' …
.
~~~~~~~~~~#########~~~~~~~~~~
Posted by:
Greg Lance – Watkins
Greg_L-W
eMail Address:
Greg_L-W@BTconnect.com
Blog About The Main Web Site:
https://InfoWebSiteUK.wordpress.com
~~~~~~~~~~#########~~~~~~~~~~
Hi,
Led by Donkeys show their faces at last: 'No one knew it was us'
The four men behind the nationwide Brexit billboard phenomenon finally reveal their identities – in the pub where it all began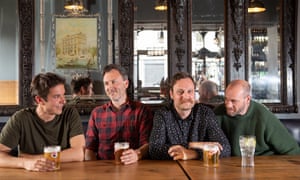 The Birdcage pub in Stoke Newington, north London, seems an unlikely birthplace for a rebellion. On a midweek afternoon, the bar is almost empty. Spring sunshine streams through the windows; Spandau Ballet provide a gentle soundtrack; black-hatted men from the local ultra-Orthodox Jewish community pass by outside.
The only customers are four men sitting at a table in an alcove. It was at this spot, more than five months ago, that this group of friends came up with an idea born from their collective despair over the "lies, lunacy and hypocrisy" of the Brexit process.
That idea was to emblazon the 2015 tweet by the then prime minister David Cameron, "Britain faces a simple and inescapable choice – stability and strong government with me, or chaos with Ed Miliband", across a giant billboard. Since then, it has turned into a national campaign that has captured the imagination of millions of people, sparked heated debate and infuriated Nigel Farage and his supporters.
Now, the creators of Led By Donkeys have decided to go public. Ben Stewart, James Sadri, Oliver Knowles and Will Rose are hitting back against claims by rightwing bloggers and trolls that they are a shadowy, anonymous group by revealing their identities and motives. "It feels like the right time to say who we are and defend our work and views. We're proud of what we've done," said Knowles, 43.
The four have been targeted by the Guido Fawkes website, which claimed to have "unmasked" them as "Greenpeace campaigners" last week after they registered their names with the Electoral Commission. Stewart and Knowles do indeed work for Greenpeace, and Sadri and Rose have previously worked for the environmental campaign group, but Led By Donkeys is an entirely freelance amateur operation. "No one at work knew we were doing this," said Stewart, 45.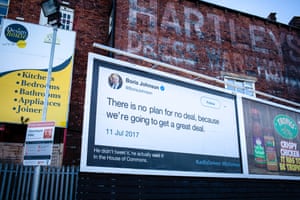 The men met for a pint at the Birdcage in mid-December, just after Theresa May had postponed the first scheduled Commons vote on her Brexit deal. "It felt like the country had reached another level of chaos," said Stewart. "We were looking at Cameron's tweet from before the 2015 election, which was doing the rounds again, and pissing ourselves with laughter. We said it would be a real shame if he deleted it because it encapsulates the total failure of Britain's political leadership."
Their eyes alighted on an advertising billboard across the road. Within a few days, they had ordered five billboard posters, each in 12 sections: tweets and quotes from Cameron, Michael Gove, Liam Fox, John Redwood and David Davis. And they chose the campaign's name from the phrase "lions led by donkeys" used to describe first world war soldiers and their incompetent generals.
In January, the first poster went up on "borrowed space" in Stoke Newington, covering an ad for the Halifax. The group had invested in hi-vis jackets (in the hope of looking legitimate), a ladder, buckets and wallpaper paste, but they had no idea how to actually get the printed sheets up on the giant board.
"The sheets kept falling down, drivers were stopping to look at us, we were covered in paste, and it took us an hour and a half. But then we stood back and looked at it. Olly put his arm round my shoulder and said: 'This is absolutely fucking beautiful'. We took a picture to post on social media, expecting maybe seven retweets. And it just exploded," said Stewart.
Sadri, 39, said: "It was a way of channelling frustration into action and holding some of these politicians to account with a bit of humour. There's a lot to be said for laughing at those in power."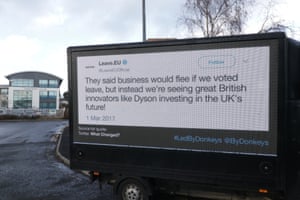 By 4pm the next day, the Led By Donkeys poster was gone, pasted over by plain blue paper. But its life on social media was just beginning.
Their next venture was in Dover, a town on the frontline of Brexit and a Farage stronghold. In deserted streets and feeling "pretty nervous", the group put up four posters in one night, again tweeting photographs of their handiwork. The posters were stripped off the next day, "but we were getting thousands of Twitter followers – and loads of people were saying 'we'd love to throw some money at this'," said Knowles.
They set up a crowdfunding appeal with a target of £10,000. It was reached within three hours. "We increased it to £50,000, and we'd hit that by the next morning," said Stewart. By the middle of last week, they had raised £438,704 from 14,299 supporters – an average donation of £30, many of them much smaller amounts and a handful of £1,000 gifts.
With money in the bank, the group decided to go legitimate. The cost of a billboard ranges from £500 to more than £1,000, depending on location, size, how long the ad is displayed for, and lighting. "But the big [billboard] firms said they didn't want anything to do with us. Luckily we found some independents willing to take us – and now some of the big companies have come round," said Sadri.
Stewart added: "We started dishing out a lot of money, and tweeting everything we did, and the whole thing got bigger and bigger. And we were doing all this in the gaps in between our day jobs and our kids. I'd be on our WhatsApp group at 6am, then suddenly the baby monitor would go off. It's been pretty exhausting."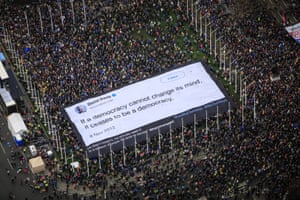 A big moment came with the People's Vote demonstration in March. The group had the idea of a huge lightweight banner to be passed over the heads of marchers, taking their inspiration from football supporters. A 40×20 metre banner, weighing 160kg, was made in just five days at a cost of £12,000. Hiring a helicopter for an hour to photograph it cost another £5,000, and the exercise needed a team of 25 volunteers to help marchers pass it aloft.
The quote they chose was from Davis, the arch-Brexiter: "If a democracy cannot change its mind, it ceases to be a democracy."
The comedian Steve Coogan introduced the piece of political theatre to the crowd. "They responded immediately. There were big smiles. Everyone had their hands in the air to help with the banner. It was a beautiful moment of coordination and cooperation – the antithesis of Brexit," said Stewart.
"This was 10 weeks after we'd put up our first poster, and I remember looking up and thinking, that helicopter is the BBC and that other helicopter is Led By Donkeys. How the hell has that happened since we went down the Birdcage and had a pint?"
Led By Donkeys had also been following Farage's March to Leave from Sunderland to London with two digital ad vans displaying a selection of tweets and declarations. "Farage couldn't avoid them. It was a pretty special moment, directing the vans into shot when he was speaking," said Rose, 40.
Farage and his supporters have struck back, accusing Led By Donkeys of breaking Electoral Commission spending rules. Unregistered non-party groups may only spend up to £20,000 in England during an election campaign, while registered campaigners are permitted to spend almost £160,000.
In the official campaign period, Led By Donkeys has spent £18,298 on its European election push, in accounts seen by the Observer. But Stewart, Sadri, Knowles and Rose decided to register with the commission in order to be "proactively transparent". They have also disclosed their previous activism: in 2008, Stewart and Rose were among six people cleared of causing criminal damage at a coal-fired power station in Kent, and Knowles has a number of convictions for peaceful protests.
In the past couple of weeks, they have also come under fire from the left over a billboard showcasing a quote from Ann Widdecombe, the former Tory minister who has joined the Brexit party: "Homosexual acts are wrongful." Most people, their critics argued, would simply see the homophobic message and miss the subtleties of Led By Donkeys' messaging.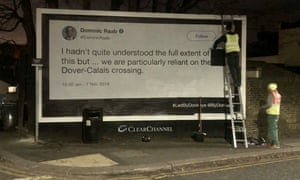 The group swiftly apologised and had the posters taken down. "It was a mistake. We looked at the reaction on social media and it didn't take long to realise the criticism was justified," said Stewart.
Some have also suggested that Led By Donkeys operates in an echo chamber, only striking a chord with Remainers. "People have said we're inside a bubble, but we've deliberately chosen Leave-voting areas to put up our posters. We know we've sparked hundreds, thousands of conversations. Loads of people have messaged us to say the billboards have kicked off discussions with their dad or their uncle or someone else. You have the whole mix of society walking past a billboard – you can't have a billboard in a bubble," said Stewart.
Asked what comes next, the four are uncharacteristically silent for a moment. "The polarisation and division in the country really bothers me, and we talked a lot about whether our poster campaign exacerbates that. We were trying to create a conversation between Leavers and Remainers – and the evidence from what people have told us is that we've done that," said Stewart.
"But it feels like the country is about to slip into an even more polarised state, with a revoke or no-deal dynamic emerging. What can we do about that? I don't know. But you have to hold people accountable."
To view the original article CLICK HERE
Regards,
Greg_L-W.
~~~~~~~~~~#########~~~~~~~~~~
Posted by: Greg Lance-Watkins
tel: 44 (0)1594 – 528 337
Calls from 'Number Withheld' phones Are Blocked
All unanswered messages are recorded.
Leave your name & a UK land line number & I will return your call.
'e'Mail Address: Greg_L-W@BTconnect.com
~~~~~~~~~~#########~~~~~~~~~~
With an avg. 1.2M voters per MEP & Britain with 16% of EU GDP and 13% of the EU's population yet  having only 8% (if united) say, whilst holding less than 3% of the various offices within the EU Do note The EUropean Parliament has no ability to make policy and has a Commission of unelected bureaucrats, thus clearly the EU is not even a pretence of being a democracy despite its protestations!

Do note that many senior apparatchicks and even elected politicians speak openly of the 'Post Democratic era' with no sense of shame or irony and in complete contempt of the so called electorate – yet The EU & many of its vassal States/Regions are all too willing to slaughter people in Sovereign States, to impose The EU's chosen brand of democracy on them!

Now as President Junker announced in his 'State of the union' speech 2017 the aim is to create an EU military force and centralise ever more of the decision making and control!

The imposition of a Government and policies upon its vassal regions such as the peoples of Greece shows just how far from being a democracy the EU is.

Just follow the recent EU display of so called 'Democracy':
France and the Netherlands voted against the proposed EU constitution in 2005, only to have those votes ignored.
Ireland voted against ratifying the Lisbon treaty in 2008, but then later under pressure & threats had to change its mind.
Greece for me was the final straw. It became clear in 2015 that it didn't matter which way the Greek people voted. The birthplace of democracy had become its tomb. That was enough. I was going to vote to leave the EU when the chance came.

No political party of any significance in Britain took active steps to achieve a Referendum – the task was eventually taken by an Indipendent West Midlands MEP Nikki Sinclaire who personally launched and funded the gathering of a petition of 225,000 signatures delivered to Parliament via Downing Street, thus forcing a debate in the House of Commons on an IN/OUT Referendum, which led to David Cameron's first consequential rebellion.

It was due to winning that debate, officially opposed by every party including Ukip that David Cameron was forced to include a promise of an IN/OUT Referendum in the Tory Manifesto at the next General Election. The rest is history & despite no Parliamentary Party backing the OUT vote & Government spending Millions of Pounds of public money leafletting & promoting 'Project Fear' to try to persuade the British people to Remain just as they had at the first Referendum in 1975 – This time their lies and threats were not heeded and in the largest vote in British history Britain voted by a clear majority to Leave.

Nikki Sinclaire's OUT result left Cameron & his co conspirator Osborne with no option but to resign, sadly some of the other traitors have remained to try to hinder progress to BreXit, aided by their corrupt allies in the EU and \eu funding and bribes!

There will be little or no change in Britain's economic position, if we leave the EU, using a better negotiated, customised & updated version of the 'Norway Model' as a stepping stone to becoming a full member of the Eropean Economic Area, where all will benefit, as we secure trade relations with the EU's vassal regions, with an EFTA style status and can trade and negotiate independently on the global stage, as members of The Commonwealth and the Anglosphere.

This is of course dependent on a modicum of intelligence on the part of Britain's politicians and negotiators but it also requires the integrity of Parliament to uphod democracy and the integrity of EU politicuians & apparchicks to act ethically and without their normal vindictive mallice.

I believe Leaving the EU will be turned into something of a rough ride by the ignorant and the corrupt but I have no doubt that in the long run Leaving the EU will prove conclusively to be in the best interests of Britain and our true allies. I also believe that Britain leaving the EU will prove to be the catalyst to great changes within the EU and hopefully its democratisation as without great changes it is indubitably doomed.
Do not overlook the fact that politicians have plotted and schemmed since the 1950s and we have actually been vassals of the EU, when it was still using the aesopian linguistics and calling itself The Common Market in the early 1970s, a name the bureaucrats arbitrarily changed to EUropean Union in the early 1990s as they worked towards their long term goals of an ever closer centrally controlled Political and economic Union with its own anthem, currency, flag and rigid central control by its self appointed bureacrats towards a new Empirate –

It will take many years to rectify the mess our political class got us into and we have no other peacefull means by which to extricate ourselves than to depend on that self same self styled elite, who all too often forget they work for us!
One huge benefit of BreXit will be that we can negotiate with bodies like the WTO, UN, WHO, IMF, CODEX and the like, directly, in our own interest and that of our partners around the world, in both the Commonwealth and the Anglosphere at large; rather than having negotiations and terms imposed by unelected EU bureacrats and their interpretation of the rules handed down, as if they were some great achievement of the EU's!

The greatest change and benefit will be political, as we improve our democracy and self determination, with the ability to deselect and elect our own Government, with an improved Westminster structure, see >

Harrogate Agenda

<.

How we go about the process of disentangling our future wellbeing from the EU is laid out in extensive, well researched and immensely tedious detail see >

FleXcit

< or for a brief video summary

CLICK HERE
~~~~~~~~~~#########~~~~~~~~~~
DO MAKE USE of LINKS,
>SEARCH<
&
>Side Bars<
&
The Top Bar >PAGES<Also:
You will find me on both Skype & Twitter but I do not utilise the attrociously regulated FaceBook nor similar social media.
Skype: GregL-W
TWITTER: @Greg_LW
You are encouraged to contact me with information or to effect a correction on any of my postings – BUT I only respond to individuals providing a verifiable name, address and land line telephone.
NB:
I NEVER post anonymously on the internet
ALL MY BLOGS & WEB SITES are clearly sourced to me
I DO NOT use an obfuscated eMail address to hide behind
I DO NOT use or bother reading FaceBook, Instagram etc.

I DO have a Voice Mail Message System
I ONLY GUARANTEE to answer identifiable eMails
I ONLY GUARANTEE to phone back identifiable UK Land Line Messages
I DO NOT accept phone calls from witheld numbers
I REGRET due to BT in this area I have a rubbish Broadband connection
I AM opposed to British membership of The EU & have actively opposed it since C1960

I AM opposed to Welsh, Scottish or English Independence within an interdependent UK
I AM NOT a WARMIST
I DO NOT believe the IPCC Climate Propaganda re Anthropogenic Global Warming
I AM strongly opposed to the subsidy or use of failed technologies eg. WIND TURBINES
I AM IN FAVOUR of rapid research & development of NEW NUCLEAR, Thorium, Hydrogen & Psi/Si technologies
I see no evidence to trust POLITICIANS at any level or of any persuasion
I DO NOT believe in GODS singular or plural, Bronze Age or Modern
I VALUE the NHS as a HEALTH SERVICE NOT a Lifestyle support
I BELIEVE in a DEATH PENALTY for serial or GBH rape.
I BELIEVE in a DEATH PENALTY for serial, terrorist, mass or for pleasure, gain or profit murder.
I BELIEVE in a DEATH PENALTY for serial gross child abuse including sexual.
I DO NOT trust or believe in armed police
I DO NOT believe in prolonging human life beyond reasonable expectation of sentient participatory intellectual existence
I BELIEVE in EUTHENASIA under clearly defined & legal terms
I DO TRY to make every effort to NOT infringe copyrights in any commercial way & make all consequential corrections of fact brought to my attention by an identifiable individual
Re-TWEET my Tweets
To Spread The Facts World Wide